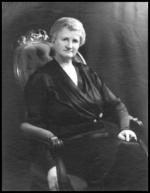 Flora Rose
1874 - 1959
College of Human Ecology
Cornell University Faculty 1907 - 1940
If Flora Rose had followed the expectations of her well-to-do Denver family, she would have been a woman of high society. By her mid-twenties, however, Rose found that lifestyle unfulfilling and abandoned it for a career in the new field of home economics. She borrowed money and enrolled in a household arts program at Framingham (Massachusetts) Normal School. In 1904, she earned a B.S. from Kansas State University, where she taught food and nutrition classes. By 1907, Rose had received an M.A. in Food and Nutrition from Columbia University. 
In 1905, Rose wrote a letter to administrators at both Stanford and Cornell University encouraging these forward-thinking, coeducational universities to start programs in home economics. She later explained: "Neither of them had home economics, and in my reforming mood I decided that they should." Rose's letter convinced the Cornell administration to invite her as a lecturer in nutrition in 1907, which led to a full-time appointment in the agriculture department in the hope that Rose would help establish a home economics department. 
Rose made important strides in the field of nutrition. Her research at Cornell led to the development of Milkorno, one of the first low-cost reinforced cereals. Throughout World War I, she served as deputy director for the New York State division of the United States Food Administration. In 1923, at the request of King Albert, she traveled to Belgium to organize food relief for malnourished Belgian school children. For her efforts, she received the Order of the Crown. During the late 1920s, Rose conducted a nutritional study of Cattaraugus County, New York, which garnered national attention because it discovered a relationship between good nutrition and decreasing incidence of tuberculosis and infant mortality. During the Great Depression, the Federal Relief Emergency Administration adopted emergency food budgets devised by Rose. These budgets enabled poor families to eat healthily on meager incomes.